Advanced Dry Milling Technology
5-Axis Dental Milling at its Best
The DWX-52D Plus Dry Mill brings your production to a new level.  With faster output, enhanced precision, and new tools and strategies, milling zirconia, PMMA and other materials will be easier, more efficient, and more accurate than ever before.
Enjoy the freedom to choose your material and applications with the DWX-52D 5-Axis Dental Milling Machine. Mill multiple applications in zirconia, wax, PMMA, PEEK, PEKK, gypsum, composite resin, and chrome cobalt sinter metal. Load disc or pin-type materials. For advanced users, add a Removable Denture Kit workflow to digitize your in-house production of partial and full dentures. With the DWX-52D, your options are unlimited.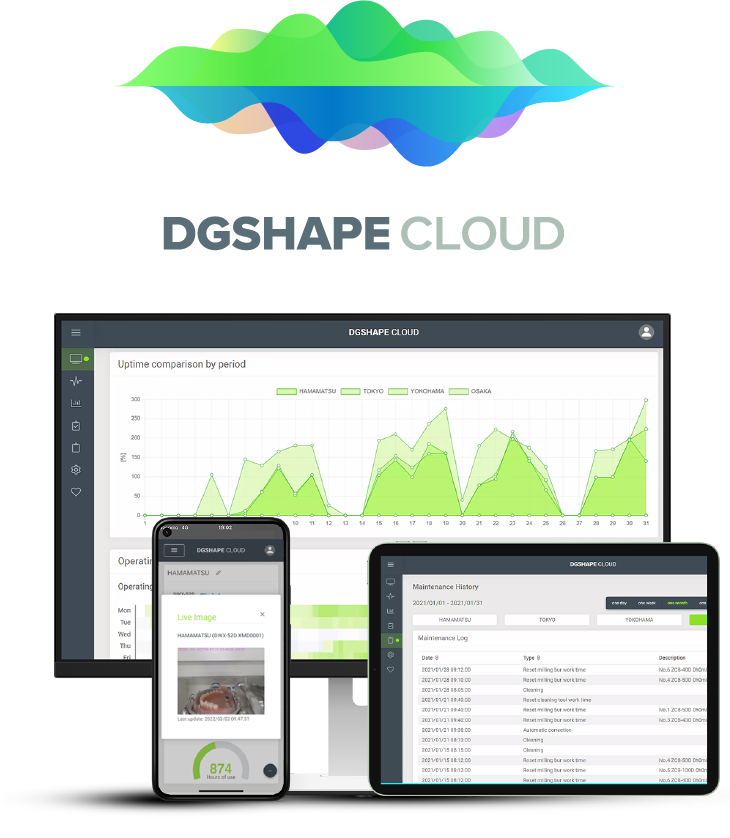 Take remote control of your CAD/CAM milling device
with DGSHAPE CLOUD: your free software.
Find out more download your version
Highly Optimized Production
With today's high productivity standards, it's important to stay on top of your digital workflow, even when you're away from the workplace. Our latest performance software will help you optimize production and get the most out of your device. Keep track of live jobs, finished jobs, and overall utilization of your milling device. Dig deeper into material and tool usage, improve support and more with DGSHAPE CLOUD Performance Monitoring Software.
DGSHAPE's Open Edge Adapter (ZMA2-52D) enables precise milling for all your dental applications. Produce clean facial anatomy on the anterior surface of any crown or bridge.  Remove undercuts with ease as you access long-span bridge restoratives from any angle.  Use the open side of the adapter for additional space to place wide arch bridges or surgical guides that require better angling when milling insertion holes. Your options for precision milling are limitless with the DWX-52D 5-Axis Dental Milling Machine.
Simplified Production and Device Monitoring
Included VPanel software provides a complete solution that seamlessly combines maintenance and output performance control. Use VPanel to remotely manage your milling device without any need for an operator to be stationed nearby. Monitor tool use and set notifications so you know when milling jobs are done, operations are completed, or when an error has occurred. Oversee up to four milling devices from a single PC, and perform and track all maintenance operations through VPanel's user friendly interface.
Anytime, Anywhere on Any Device