Fine Detail and Smooth Finish
With an improved drive system, machine rigidity and enhanced drive mechanics, the MDX-50 mills incredibly smooth and accurate prototypes for testing structure, function, and assembly with other parts. A machining area of 15.8"(400mm) (X) x 12"(305mm) (Y) x 5.3"(135mm) (Z) supports production of large single objects or batch production of smaller multiple parts.
Achieve accurate surface finish to simulate production-ready prototypes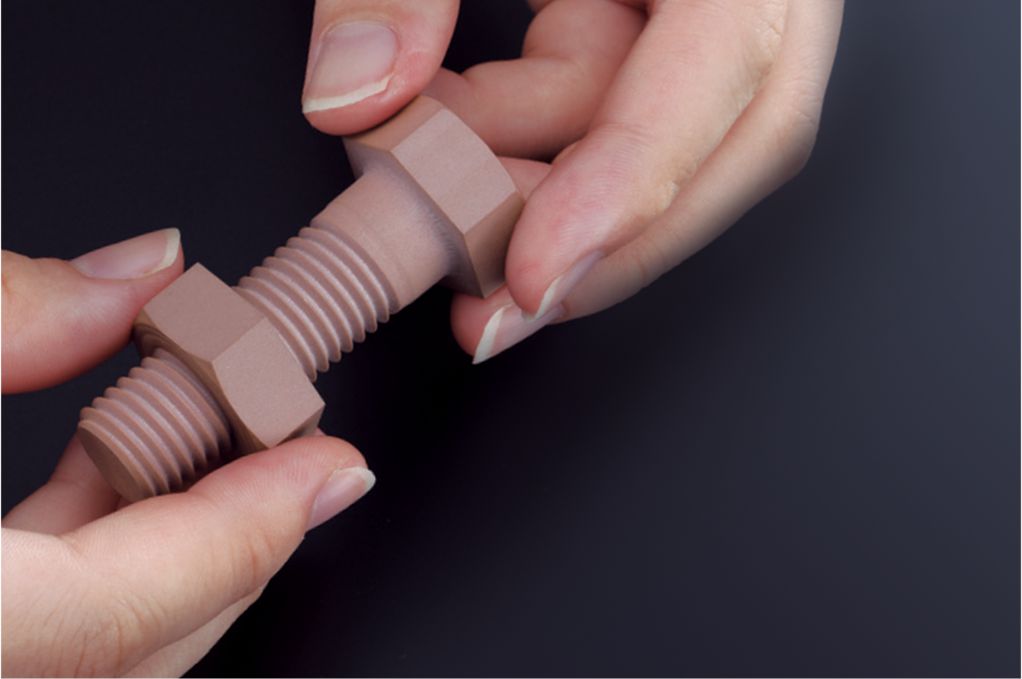 Traditional methods of rapid prototyping involve hand crafting wax, clay, and other soft materials. These methods rely on the steady hand of a craft-person and can lead to imperfections or limitations based on the choice of material. 
Similarly, emerging methods of digital production, such as 3D printing, may be able to replicate an exact material, but the method can be cost-prohibitive compared to the benefit/performance ratio of the MDX-50 – lower priced technologies can yield clunky prototypes, while high performance production can dramatically increase your cost structure and use complicated software workflows. 
MDX devices use superior motion control firmware to calibrate in 3D space. This eliminates the need for heavy, granite or steel bases to stabilize the machine.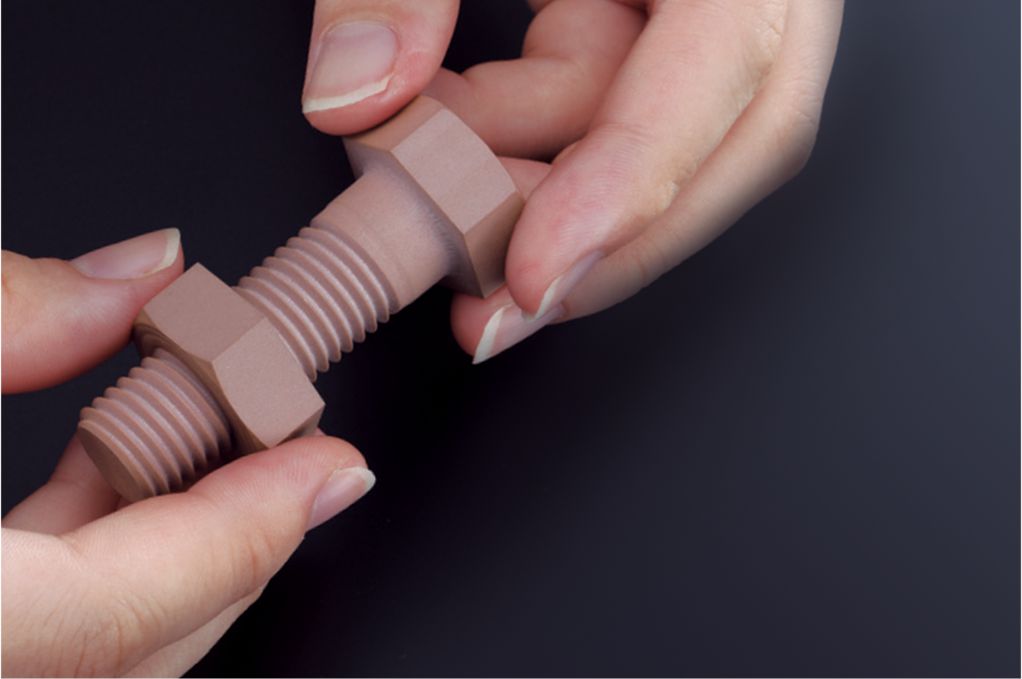 Truly Functional Prototypes
The following items are just some of the materials that can be milled with the MDX-50 benchtop CNC mill:
ABS
POM
Nylon Plastic Foam
Modeling Wax
PVC Plywood
Hardwood
Acetal
As a Subtractive, rather than Additive, 3D machine; the MDX-50 Rapid Prototype Machine supports a variety of non-proprietary materials. The following items are just some of the prototypes and applications that are possible with this versatile device:
Snap-fit parts
Moulds for casting
Toys and games
Product prototypes
Jewellery and accessories
Furnishings and decorations
Electrical parts and casings
Relief signs and graphics

Many Rapid Prototyping technologies require the use of specific materials that can be manipulated by the specific technology of the solution. MDX devices can create functional prototypes out of the final material of the product, bypassing multiple phases of the prototyping process.
Many prototypes for products are built using foam, wax, and paper-based materials to simulate 'Proof of Concept'.
MDX devices leverage the power of Computer Aided Design (CAD) to bypass the Creative phase and move directly to working prototype in the final usable material with all of the characteristics of the final product: movement, buttons, latches, etc.

The automated features of the MDX-50 enable users to mill with speed and confidence. Combine the 5-station ATC and optional rotary axis unit for the most automated and precise operation:
Auto-sensing function corrects the tool length to ensure milling accuracy for every job.
Optional rotary axis for effortless production of complex surfaces.

Includes a wide, self-centering headstock, and tailstock workpiece clamps.
Auto-rotates materials from 0-to-360 degrees.
Indexes for 2-sided, 4-sided and custom angles.

Automatic Tool Changer loads and unloads milling burs without any human involvement

Multiple Roughing and Finishing passes can be performed based on the complexity of your toolpath strategy – completely unattended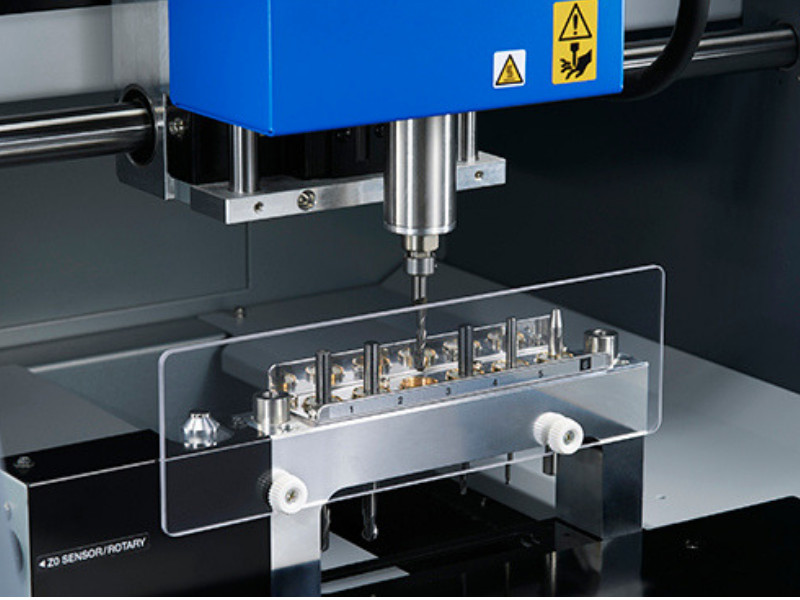 The MDX-50 reduces the time and effort of machine set-up with an expanded work area, inner-machine lighting for clear visibility, and an included tool adaptor that enables instant installation of ATC tools – requiring no wrench or additional tools. 
With a built-in control panel at the front of the unit, almost all operations can be completed from the unit itself. Users can perform operating functions and view the current job status without needing to constantly check their PC. 
The MDX-50 is designed for use in studio and educational environments. A newly improved door ensures extra-safe operation while waste is contained in a built-in debris collection drawer.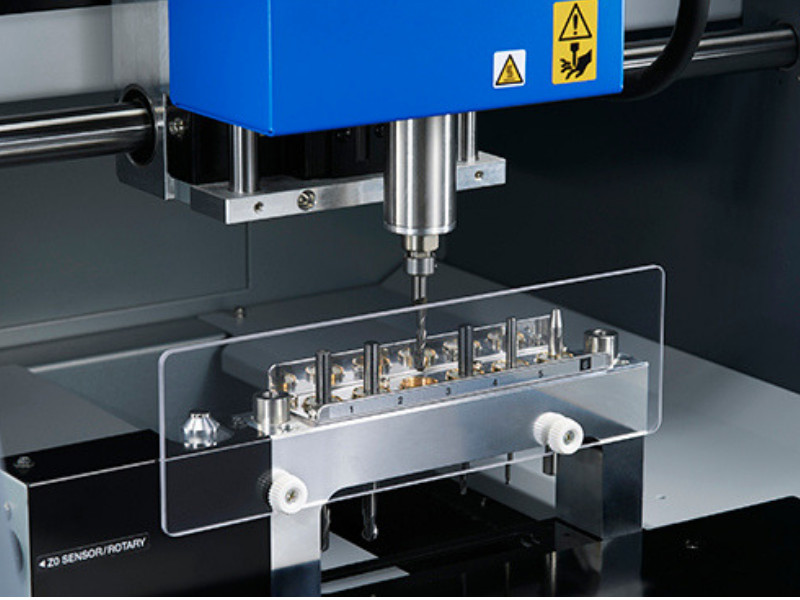 Advanced drive system supports dimensional stability
Large machining area plus enhanced machine rigidity and drive mechanics
Optional Rotary Axis with self-centering headstock and tailstock workpiece clamps
Simple-to-load tools and automatic machine calibration
Requires no special electrical set-up and needs no additional air compressor
Multi colour-coded LED status light notifications and email notifications inform users of machine status
Built-in debris collection drawer with rail guided safety door for safe and clean production
Ideal for use in studio and educational environments
4 different colors illuminate to communicate machine status – ready, standby, communication errors, and emergency stop.
Milling waste can collect on the bed of the machine and build up over time, damaging critical components if not taken care of. The included waste tray makes getting to this debris easy and effective to keep your machine clean and performing at its best.
MDX-50 comes packed with features to make your journey into Computer Aided Manufacturing (CAM) easy and efficient.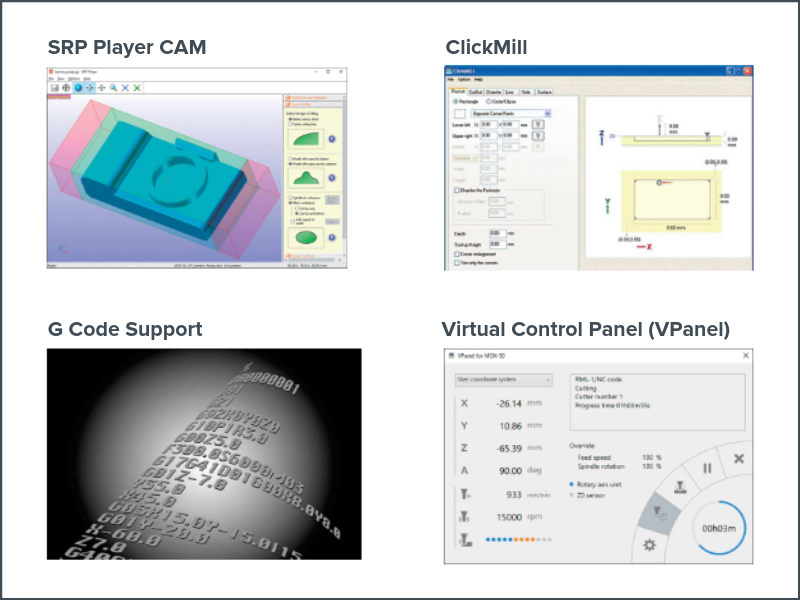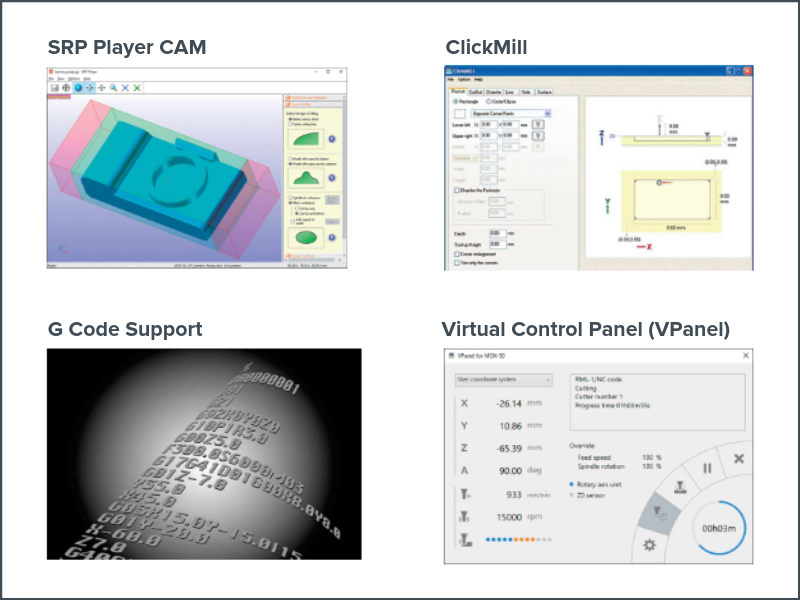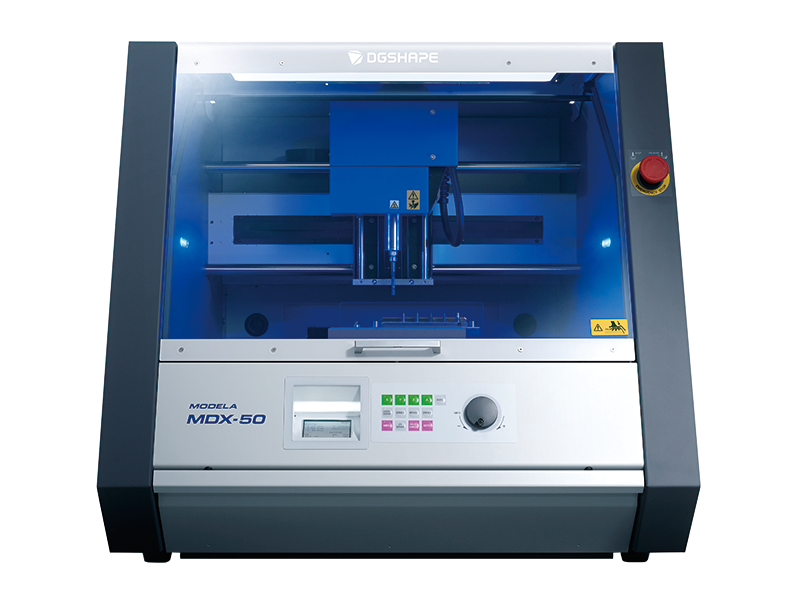 Synthetic materials such as chemical wood, plastics, and modeling wax. *Metals not recommended
Without Rotary Axis: Width: Up to 400 mm (15.8 in), Depth: Up to 305 mm (12 in), Height: Up to 100 mm (3.9 in)
With Rotary Axis (ZCL-50A): Width: Up to 120 mm, Depth/Height: Up to 120 mm (60 mm from center of axis rotation)
XY Axis: 7 – 3600 mm / min, Z axis: 7 – 3000 mm / min
AC 100-240V ± 10% 50-60 Hz
Operation: 60 dB(A) or less, Standby: 45 dB(A) or less
Width: 760 mm (29.9 in), Depth: 900 mm (35.4 in), Height: 732 mm (28.8 in)
Indoor use only, Temperature: 5-40°C, Relative Humidity: 35-80%
The MDX-50 comes with Power cord, USB cable, manual, DGSHAPE Software Package CD, detection pin, hexagonal screwdriver, hexagonal wrench, wrench spanner, tool holder, tool positioner, and Z0 sensor.
Contact an authorized DGSHAPE distributor to obtain certified DGSHAPE spare parts and accessories.
MDX-50, like all DGSHAPE devices, is part of an "Open System" where any CAD, scanner, and CAM can be used to complete your own personal workflow that you are familiar with. We do not have any proprietary components or software and we do not charge a fee to "unlock" any part of our system.
Frequently Asked Questions
DGSHAPE is a member of the Roland DG group of companies and our products are sold and serviced through its network of distribution partners around the world.
In most cases, DGSHAPE will warranty the machine for up to 1 year after install, however regional regulations will determine specific warranty policies around replacement of consumable items and hardware repair. Contact an authorized DGSHAPE distributor for details.