Built to Make Engraving Easy
A large, red button is located right on top of the machine for those moments when an engraving job needs to be cancelled right away.
Without the need for a computer, you can quickly select machine options such as spindle speed and one-touch machine cleaning. Engraving job data can be sent from your computer and stored in the controller after the PC is disconnected.
Using a split collet and rotating spindle, the DE-3 can produce traditional rotary engraving output on woo and synthetics like engraving plastics and acrylics.
The spindle motor can be disabled to turn your rotary engraver into a precision Diamond Drag tool for engraving on precious metals.
Combining Rotary and Diamond Drag technologies, Burnishing tools can leverage the power of specially designed tool bits and the spindle motor to create unique effects in coated metal substrates such as anodized aluminum. 
DE-3 uses a laser pointer for precise alignment of materials on the work area. Eliminate trial and error in high accuracy engraving jobs by using the red dot to place materials exactly where they need to be.
No more wasted blanks, no more frustration.
Connect DE-3 to your favorite chip removal system and keep your work area clean during engraving. The bundled air hose and clamp adapter fits right over the spindle and collects engraving waste while the machine is running.
DE-3 can be fitted with a Braille kit for producing raster braille Accessibility signage for the impaired. 
DE-3 accepts an optional center vise for securing high-value and odd shaped items that need to be secured for engraving. 
Whether you are a sign-maker, equipment manufacturer, or awards and gift supplier, the DE-3 desktop engraver is ideally suited to engrave an impressive variety of giftware, signage, trophies, tools, and industrial products. The DE-3's integrated safety cover and user-friendly operation also make it ideal for use within retail environments.
The DE-3 works out-of-the-box with popular engraving software, industry standard tools, and materials. It also features Dr. Engrave Plus software that offers new user advantages. Supports AI files and standard graphic/vector data.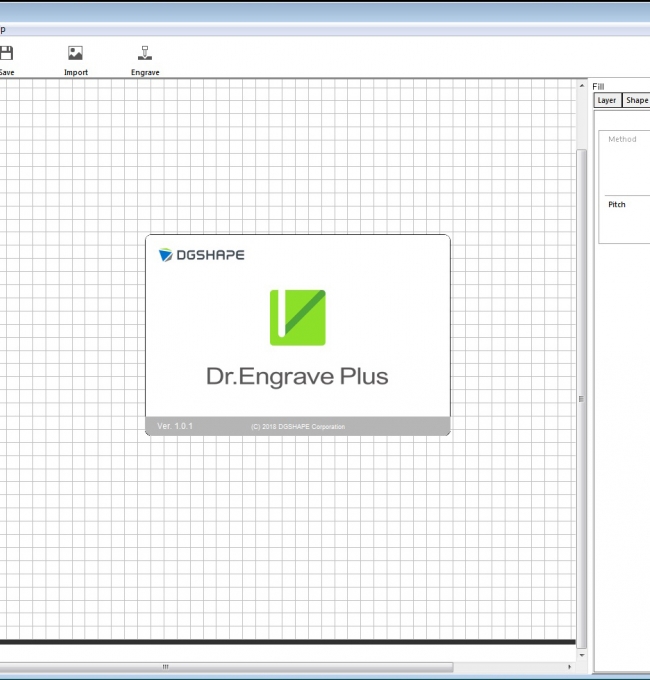 Import a spreadsheet of data to populate serialized applications such as name badges, awards, and industrial labels
Dr Engrave Plus supports advanced engraving functions such as bed leveling and hole drilling.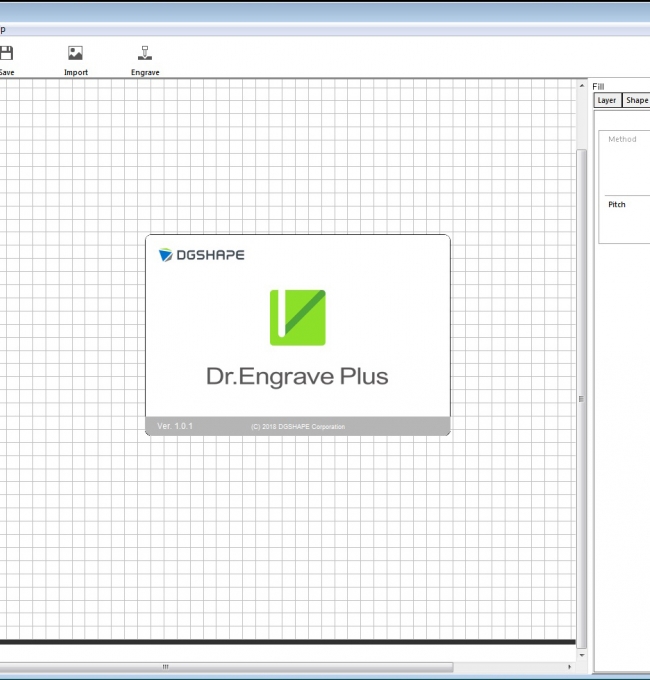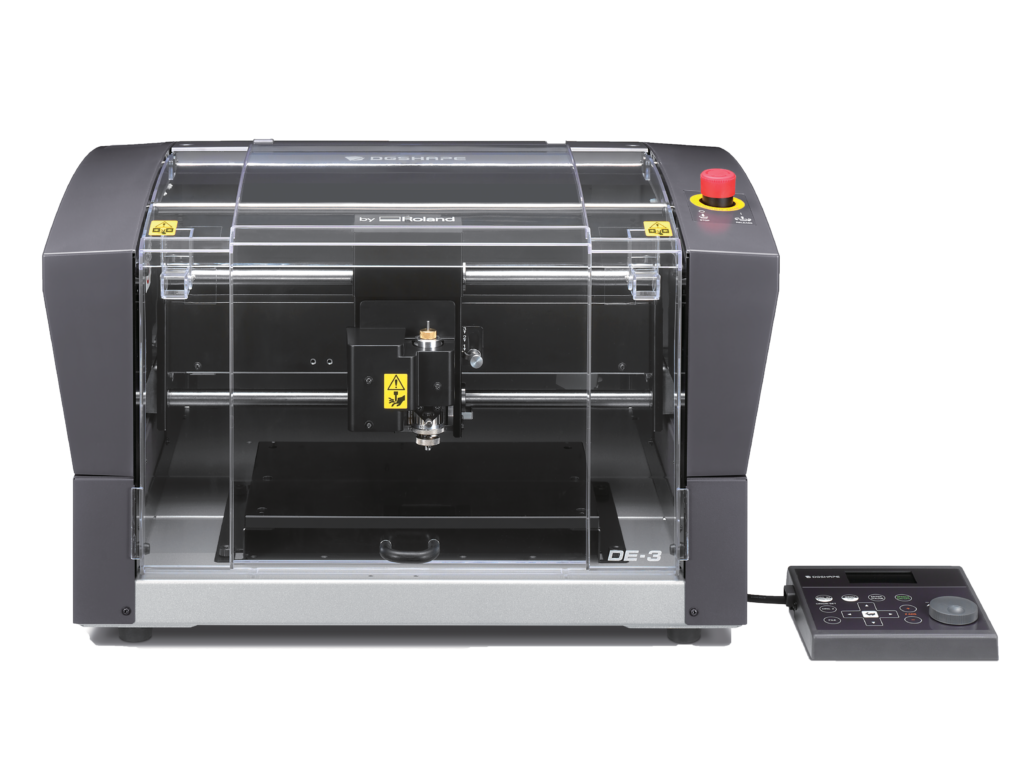 Plastics and non-ferrous metal (brass, aluminum)
Width: Up to 305 mm (12 in), Depth: Up to 230 mm (9.1 in), Height: Up to 40 mm* (1.6″ in), *38 mm with nosecone installed
XY Axis: Up to 60 mm/sec, Z axis: Up to 30 mm/sec
USB, Ethernet (10/100 Base T automatic switching)
AC 100-240V ± 10% 50-60 Hz
Operation: 60 dB(A) or less (not cutting), Standby: 40 dB(A) or less
Width: 616 mm (24.2 in), Depth: 587 mm (23 in), Height: 390 mm (15.3 in)
Indoor use only, Temperature: 5-40°C  Relative Humidity: 35-80%
The DE-3 comes with Power cord, USB cable, nose cone unit (resin / metal components), nose unit set screw (fixing screw, spring), spare set screw (for cutter holder) , Solid collet (∅ 3.175 mm), spanner wrench, hex wrench, hex driver, adhesive sheet, dust collector adapter, DGSHAPE Software Package CD, Setup Guide.
Contact an authorized DGSHAPE distributor to obtain certified DGSHAPE spare parts and accessories.
DE-3, like all DGSHAPE devices, is part of an "Open System" where any CAD, scanner, and CAM can be used to complete your own personal workflow that you are familiar with. We do not have any proprietary components or software and we do not charge a fee to "unlock" any part of our system.
Frequently Asked Questions
DGSHAPE is a member of the Roland DG group of companies and our products are sold and serviced through its network of distribution partners around the world.
In most cases, DGSHAPE will warranty the machine for up to 1 year after install, however regional regulations will determine specific warranty policies around replacement of consumable items and hardware repair. Contact an authorized DGSHAPE distributor for details.